Without a lot of operating time, it has been a good month for DX, especially new countries, as noted in my previous post. Several DXpeditions were in process and worked successfully, and topped off by getting in on the PR0T DXpedition to Trindade and Martin Vaz Islands on their last day of operating.
Whenever I try to work a DXpedition, I try to find their info, either on QSZ.com, or often they have a webpage. They usually will have their operating schedule and modes, frequencies posted. I figured FT8 was my best chance. One thing I noted, they indicated they were only using MSHV software protocol. I was aware of MSHV being similar to WSJT-X Fox/Hound mode, but did not know much else. So I had to do some research.
Key info, use WSJT-X in normal mode, not Fox/Hound mode, and all should be fine.
Yesterday, I did try for several hours on 30 meters, and it was quite the FT8 pileup, and I did not get thru. But this morning, I checked the DX spots, and saw they were on 12 meters. It looked like fewer stations were calling, so I thought I'd have a chance. Their signal was showing maybe some QSB, with sometimes a +00db, and up to a +10db signal. Since typically I seem to be several dB below the stations I am QSOing, it seemed like I should be readable.
It only to about 10 minutes, and they answered me.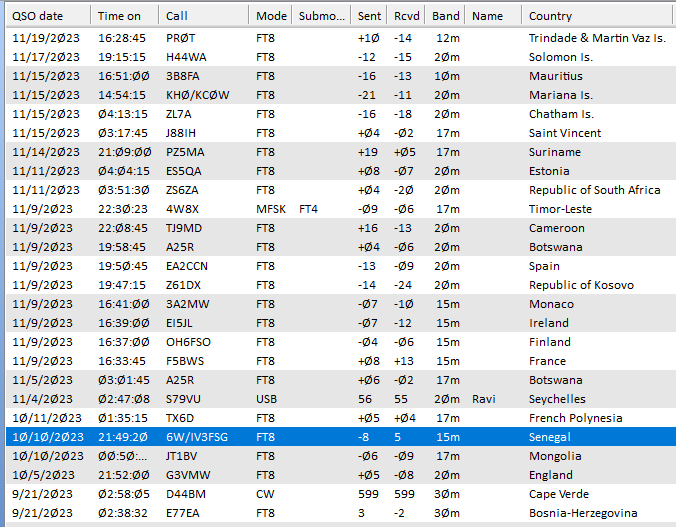 So my last six contacts were all semi-rare islands. I also have found the DX Commander antenna to be helpful, especially with all the bands 40-10 meters resonant with no tuners needed. My country count had slowed during the summer, but with a good fall season, maybe the winter months will also be productive for DX.
Please follow and like us: