Unfortunately, I have been unable to locate accurate information regarding exact events and dates. So this will be mostly from memory, mine and others.
The Rochester Cup was a creation of the Rochester VHF Group. It started in the mid to late 1980s. It was a program the help increase participation the the January ARRL VHF Contest, and obviously increase scores for the RVHFG so that they would do well in the national club affiliated scores.
Essentially, it was a contest within a contest within a contest. Local clubs would compete against each other, with the winning club holding the "Rochester Cup" title for the year. It was a brilliant idea, as participation soared in the area. Every FM simplex channel was jammed with contesters all weekend. Some clubs also operated a multi-operator effort at club stations. I don't know exactly how they scored it, but I know % of club member participation was important. XARC always did very well in this category and I am told Barry Rickett N2EZS was instrumental in reading the rules and pushing for as many club members as possible to take part..
I don't know who all the local clubs who took part, but I know RDXA, RARA, RRRA, and Kodak Park ARC were prominent. In 1990, RDXA won with XARC in second place. One of the intentions of the RVHFG was to retire the Cup if any club won it three years in a row. Apparently the RDXA had won it two years in a row, but in 1991, XARC took 1st place overall.
In 1992, XARC tied with RDXA, but RDXA won via a tie-breaker. In 1993, XARC decided to submit our club scores to the ARRL in the medium club category! It was a good move, as XARC won the Medium Club category nationally!!!!
Again, we are lacking newsletters and minutes for much of the rest of the 1990s. So I don't know exactly what years XARC won the cup, but it would have been three years straight sometime in the mid-90s. I'm sure some of the other clubs had reduced their efforts, but XARC stayed with it. I actually have the trophy in my possession, along with much of the XARC archives, much to the chagrin of my XYL. But this was a significant achievement for a small club, especially winning the ARRL Medium Club category in 1993.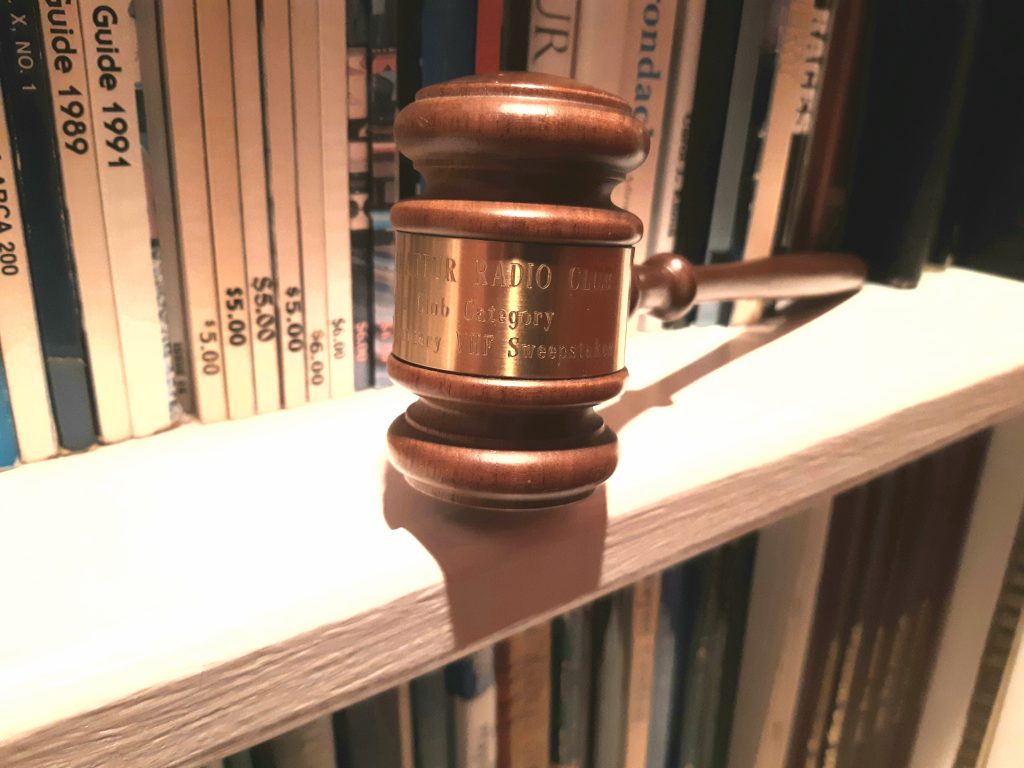 January 1993 VHF Sweepstakes Medium Club Gavel 1st Place
Rochester Cup retired by XARC