The Early Years
The Xerox Amateur Radio Club was formed in sometime in 1979/1980, at the Xerox Corporation facilities in Webster, NY.  The following hams were involved in forming the club:
Pete Secrist WB2SUN – SK
Phil Brown WA2EKK
Dan Thomas KW5Y / KJ2E
Chuck Vorndran WB2OZS
Norm Peer KA2ECO
Joe Rowe AG2Y
(to the best of our knowledge)
Most of the first year involved organizational activities.  Developing club bylaws, electing officers, recruiting members.
Here is a list of club members from March 1981:
Bold are still members-
Jim Alcorn K2CAB
Fred Allen N2BWV
Gary Bauer KA2CKR – SK
Phillip Brown WA2EKK
Vance Carpenter K2OUY
David Curtain KA1APB
Robert Dill KA2EJK
Brian Donovan WA2CRR
Jeff Dunteman KB2JN
Frank Erhart WB2WCC – SK
Brian Fovel W2PBJ
John Freiberger WA2NZO
James Guentner KA2CZO
Scott Havens AB2V
Jim Higgins WA2KJB
Joseph Ippolito
Emerson Ironside
George Jeremenko WA2CQI
Bob Karz K2OID
Jack Kinsella K2QHA
Dusty Kramer KA2HAZ
Barry Marsh KA2HJN
Edward McKenna KA2KFG – SK
George Muller WA2IEO
William Murphy WA2QLT
Gene Parker KE2T -SK
Norm Peer KA2ECO
John Randall WB2NOJ
Joe Rowe AG2Y
Elmer Scheel
Pete Secrist WB2SUN – SK
Dan Thomas KJ2E
Steve Verzulli KA1CNF
Chuck Vorndran WB2OZS
Thomas Warren W4PG
We operated our first field day in 1981.  I think we used WA2EKK as our call.  Here is our QSL Card.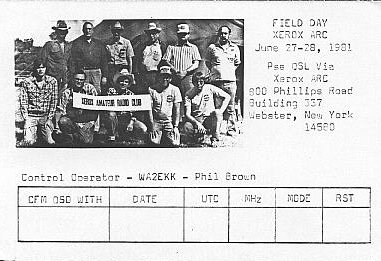 Here is a link to the photo enlarged:
L-R First row – Unknown son, George Jeremenko WA2CQI, Phil Brown WA2EKK, Pete Secrist WB2SUN, Brian Donovan WA2CRR
L-R Second Row – Gary Bauer KA2CKR, Frank Erhart WB2WCC, Emerson Ironsides, Unknown, Norm Peer KA2ECO, unknown (maybe Thomas Warren W4PG?).
Sorry I couldn't remember those two gentleman, but that was the only time I ever saw them.
When the club was formed, members had hoped that we might gain access to the Xerox Tower, located in downtown Rochester, NY.  It is the tallest building in the city, at around 30 stories.  Luckily, we had members in high places, and Dan Thomas, KJ2E, persuaded the right people, and in August 1981, we were allowed to install a 220 Mhz repeater and antenna of the roof of the Xerox Tower.  We partnered with Paul DiLorenzo WB2IMT for the first repeater.
Also in the summer of 1981, we were given the opportunity by the Xerox Recreation Association to man the hot dog stand at a softball tournament one weekend, with the proceeds going to our club.  So many of us had the pleasure of flipping burgers and hot dogs all weekend, and I believe we took in about $600 for the club.
By then we had been given a corner in the XRA building for a club station, so we needed a rig.  1981 was a transitional period in ham transceiver designs.  We had a fairly low budget, and opted for a Heathkit HW101B.  They were near the end of their run, but they still worked, and we liked the idea of being able to repair it ourselves.
Here are links to our 1981 Newsletters:
XARC Feb 1981 Newsletter Page 1

XARC Feb 1981 Newsletter Page 2

XARC Mar 1981 Newsletter

XARC Apr 1981 Newsletter

XARC May 1981 Newsletter Page 1

XARC May 1981 Newsletter Page 2

XARC June 1981 Newsletter

XARC Aug 1981 Newsletter Page 1

XARC Aug 1981 Newsletter Page 2

XARC Sep 1981 Newsletter

XARC Oct 1981 Newsletter

XARC Nov 1981 Newsletter

XARC Dec 1981 Newsletter

More newsletters – here.