NOTE: I've done the best I can with the info i have available, and what memory I have left.  If you see any errors, or have additional info, please contact me.
The earliest mention I found of a repeater, was in the February 1981 club newsletter.  It mentions our repeater.  Again in March 1981, it talks about our repeater on 224.68 Mhz, and a desire to get it installed on the Xerox Square building in downtown Rochester.
Not completely clear on the details, but my understanding that Paul DiLorenzo, WB2IMT built the repeater for us, or we bought it from him and he became the trustee.  He was an employee around that time, and some relationship was forged to benefit both parties.
My recollection was that a club member, Dan Thomas, KJ2E, was instrumental to gaining approval for the repeater to be installed on the Xerox Tower.  There may have been others – but it was announced in the June 1981 newsletter that the repeater would be moved in August, and it apparently was.
Here was info published in October 1981: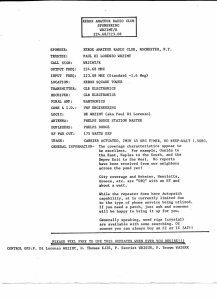 Funding came from likely a variety of areas – member dues, member donations, XRA yearly stipend (few hundred dollars usually), club members manning food stands for XRA events, etc.
At some point, I am not sure when exactly, WB2IMT was no longer working at Xerox, and Peter Secrist, WB2SUN, became our repeater trustee.  Paul may have still been involved for a few years, but at some point in the mid-80's, Pete was the repeater focal point.
The exact date is unknown, but a 440 Mhz repeater was added to the system.  The first mention I see in my newsletters was October 1985, so it was before then.  The output Frequency was 444.825 – input 449.825 MHz.  Unsure if the original WB2IMT homebrew controller was being used, or if it had been replaced.
In June 1986, the newsletter mentions approval by "XCIP" for the club to receive repeater funding.  As of yet, I have been unable to locate any details of this, but my guess is this paid for the 220 and 440 hardware we were using up until Nov 2014.
To be continued