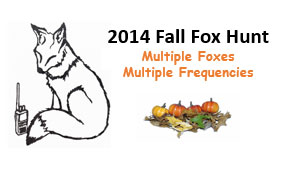 On Saturday, October 11, XARC sponsored its Fall Fox Hunt. Ned, W2NED, and Vince, W2VAB were hunt masters. We had planned the hunt to be a challenge for the most experienced hunters, but not too difficult for beginners. As usual, we all had a great time. Seven teams started and five teams found at least one fox. The top score was achieved by Jon, N2JAC and Laura, who found all four foxes for a score of 43. Second and third places were secured by Pete, W2SKY, and Bob, K2OID, who found three foxes for scores of 34 and 33 respectively. All hunters tell me that it was a very challenging hunt. Everyone was busy right up until the time we gathered for lunch at the Fruit and Salad Company in Bushnell's Basin.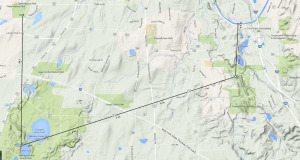 We met at the north end of the Tinker Farms Nature Park at 9:00 AM for registration and practice. At 9:30 the hunt began, and three of the four foxes could be heard form the starting location. Each fox had a unique number, frequency, tone, duty cycle and data rate. Although not advertised in the beginning, the fox numbers, tone, and data rate all increased for foxes one through three. We had hoped that this would become evident as one progressed along the path from the start location in Tinker Park (upper left) to the final fox hidden along the Erie Canal. But, alas, things were not so simple.
Fox One was located within the Tinker Farm Nature Park — less than a quarter mile south of the start location. It was a low power fox with a short, "stubby" antenna. While two other foxes actually had stronger signals at the start, Fox One actually became much stronger as one walked south in the parking lot. Once this became evident, Fox One could then be easily located in the woods in the South East corner of the park.
Foxes Two and Three were 6 watt transmitters with vertical coax dipole antennas. Both had strong signals at the start locations and were strategically located on high ridges in Mendon Ponds Park and Powder Mill Park. This caused the signals to appear to be everywhere as they echoed through the ravines and along the streams of the parks. It is just the sort of situation that makes fox hunting so interesting.
Fox Four was located on the south side of the Erie Canal within a quarter mile from the lunch location. It was fairly easy to find once one discerned which side of the canal to look.
Everyone found the hunt challenging, and it did meet the general objective of allowing newcomers to find at least one fox, while being sufficiently challenging to keep our best hunters interested. This hunt emphasized the fact that having a good hunt strategy is more important than having the best and most expensive equipment. More on this in future posts. I hope to see more hunters at the Spring Fox Hunt.